精益求精、永續經營
是本公司 1972年創立近 40年來所秉持的經營政策,做出好的機械設備,使客戶作業有事半功倍的效率,客戶得以永續經營,我們才能永續經營,這是本公司經營事業的基本理念。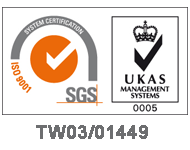 在過去 30多年我們專業於攪拌與研磨機械設備的研發與製作,隨著豐富的經驗與透過科技材料及技術不斷升級,配合使用客戶的需求及自我要求,不斷提升機械性能與品質。
於 2002年通過 ISO9001-2000 國際品質系統認證,並於 2018年初通過新版 ISO9001-2015 國際品質系統認證,以提供性能更穩定的卓越機械設備,達到好再更好『精益求精』的基本理念。
本公司積極的開拓外銷市場,由東南亞出發走遍全球五大洲,機械行銷世界 40多個國家。
設備應用於油漆、油墨、矽利康膠、化學工業、電子產業、電子 FPC 電路產業、IC 塗料、電池電漿、生技行業、製藥行業、藥膏、乳膏、化妝品等各行業。

COMPANY PROFILE :
Hwa Maw established in 1972, mainly are produced the mixing and grinding equipments which serve the chemical industry in product's viscosity from low to very high. During the years of improvement in designing function and structure, Hwa Maw become from a small factory to a famous-reliable manufacturer in the world.
It serves various different type of chemical manufacturers likes Paints, Inks, Pigments, Resins, Mass coats, Dyestuffs, Sealants, Adhesives, Hi-Tech coated, Electronic FPC board, IC Coating, Battery, Cosmetics, Ointments, Silicon glues, Putty, Cream Paste….etc. "Best, most best" are its goal. Keep making the excellent equipments to serve the clients for their upmost benefits are always motive power to push the creation. Hwa Maw now is keeping pace with leading machine manufacturers in Germany, U.S.A, Japan….etc.
Hwa Maw's clients are all over the world, and the serving items are expanding to HI-Tech chemical industry. 2002, Hwa Maw certificates the "ISO9001-2000" for supplying more superior quality and service. 2018, we got the new Certification of ISO9001-2015.
This new Certification will push our company to go upgrade ahead for future quality and service. To create the ever-career in business, Hwa Maw, its brand name has no any reason to delay the new creation and improvement for continuing future.